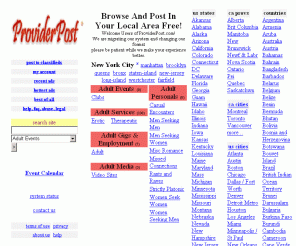 ...
Not sure is that can legally be held against you??? I am not doing anything illegal. I am advertising for some of the biggest and most well known companies in the industry. There is nothing illegal about sending targeted traffic to sites and earning a commission. Porn is not illegal. What I would do ideally is work as a flight attendant but then still advertise for adult sites on the side for extra income. I don't have a family or a social life whatsoever so I don't mind the hectic schedule.
I actually welcome it after sitting in front of the pc 20 hours a day for 5 years. I need some hectic-ness sorry, I don't think there's such a word in my life. I realize that the salary of beginning flight attendants are really low but it wouldn't be my sole source of income.
To be honest, yes, the income used to be quite high just advertising online for a few years. I used to pull in over six figures for a while; what happened was that there is too much free video content on-line now like youtube style stuff and with the recession my income has taken a drastic hit.
I am making like percent less then what I was making before Plus, not only do I pay regular income taxes but I also have to pay self-employment taxes which is a huge chunk and it just sucks really bad. I need both incomes in order to be comfortable.
The 10 year background check is a pain. I don't even remember some of the places I lived at because I moved around a lot, plus when I was younger there were times when I lived with roommates but I don't really remember their full names or exact address etc.
I'm aware no major carrier is hiring right now but it would be nice to know which major and smaller carriers are based here. Why not give it a try and see what happens they will want to know what your duties are in your present job. Allegiant Air and Skywest both have a base in LA but you are required to relocate until you get enough senority to get back to your chosen base.
Hope this info helps. JC I am not trying to discourage you however the background check is a madatory FAA regulation and you need to account for all your time by details. Perhaps you can begin by counting back to the begginning and write down what you can remember and work you way up to the present time.
Alot of flight attendants have businesses on the side its just a matter if they consider it a security issue. Mainly thats what they are looking for.
Thats why you need to account for a ten year background check, they dont accept felons for sure. I do have some college and customer service experience. I have attended a local community college for a semester and I used to work for a call-center for one of the three major credit bureaus around years ago for about two years. That job consisted of loads of customer service but it was all over the phone, not face to face interaction.
The thing is with the advertising thing, will they ask specifically what it is that I advertise or will it be enough to just say "on-line advertising". Do you think they will ask specifically that I advertise? On-line advertising is very broad and I could be advertising weight loss stuff, acai berry, teeth whitening, etc.
It pretty much can be any product actually, so I WILL be telling the truth by saying "online advertising" and if they ask specifically what I advertise I will also tell them the truth.
Do you think they will ask though? For example, if they were to ask me "So what do you do for a living", then I would say that I am self-employed and I create landing web pages with the intent of driving traffic to web sites and that I receive a commission per sale.
I would also explain that I do some search engine work where I try to optimize pages for specific keywords in the search engines etc. All of that is not a lie, it's the truth, I would just be excluding that I was sending traffic to adult sites, unless if they ask me point blank what I advertised. I just wonder if they will ask. On employment application forms I always put "self-employed in on-line advertising " etc I never say "sell porn on the internet!
I am not some perv, I'm actually a very intelligent and presentable lady. It actually does take a lot of business acumen to run a successful business for so many years. I could account for all of my time but what if the airlines can't verify where I was at because they can't contact some of the roommates I lived with before?
If I remember the address but can't provide them with a person who can vouch for me, will that be an issue? There was one place I lived at where I left on bad terms with my roomie and I don't even know their full first and last name although I could find the address.
Would something like that be a problem? I went thru background check before they will want a letter from somebody close to you who can verify who you are and your whereabouts for the last ten years, it could be a relative or close friend, they are looking for security threats if your not a terrorist you dont have to be concerned about it Remote OK accepts no liability or responsibility as a consequence of any reliance upon information on there external sites or here.
Post a job on the biggest remote jobs board by traffic on the internet. These are people looking for jobs they can do from anywhere. If that's what your company offers, you're in the right place. Press the button below to post it! No worries, after posting you'll get a link where you can always come back and edit or delete it!
We are searching a full time professional 'Frontend Developer' to develop web applications in the video advertising vertical.
Revenviews is a technology provider and is focused solely on software development in the online market. Our technology is also targeted to the adult online market.
Even though the team works remotely we are a dedicated operation and are in continuous contact throughout the day. You will act as a conduit between our UX'ers and the backend developers to create full featured applications. We are an agile and professional team of developers paired with highly experienced online sales and marketing minds.
The office is a remote Your benefits Flexibility of a remote job, Work in a professional and responsive team, Work with agile methodologies, Competitive compensation, Work on disruptive technologies What we expect: Reliability, especially since we work remotely Responsiveness and good communication skills Fluent english Independent working High level of self organization WE can only accept applicants from European time zone Technical: You should be familiar with the following tools and techniques:
Craigslist sex personals escorts of Western Australia
Sex escorts international escort